Where To Eat
Restaurants in Maui offer an exotic blend of savory dining. There are so many great places to eat in Maui that it's best to pack your appetite and make meals a big part of your trip.
With Maui's own farms, sugarcane plantations, and fresh seafood caught daily, the dining scene here has impressive range. Lahaina Grill is synonymous with fine dining, and one of the best places to sample what's been caught that day from the local waters, while locals head to Gerard's when it's fine French cuisine they're after.
Maui is blessed with a culinary scene unlike anywhere else in the world. You're just as likely to find Filipino flavors as you are a burger by the beach, or Pacific Rim medleys of sushi and fish from award-winning, island-based chefs. Try a local hole in the wall for affordable island favorites, or splurge with a plate of fresh island fish that was caught offshore that morning. Satisfy your sweet tooth at Maui's best bakeries—or simply get some shave ice—and sample a wide range of global cultures whenever you sit down to dine.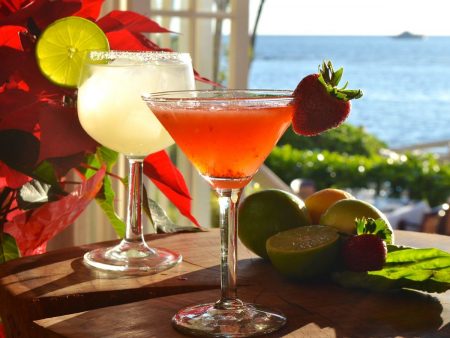 The award winning Lahaina Grill is a perennial favorite with both visitors and locals alike. Selected as the best Maui restaurant 25 years in a row 1994-2018 by readers of Honolulu Magazine, this contemporary bistro offers new american cuisine. Their signature items include sautéed mahi-mahi with local kula spinach, herb infused mashed potatoes, gorgonzola, pancetta and chardonnay beurre blanc maui onion and sesame seed crusted seared ahi with vanilla bean jasmine rice, and apple cider-soy butter vinaigrette. Their wine list is the best in Hawaii. Lahaina Grill is located at 127 Lahainaluna Rd. in Lahaina Town on Maui. They are at the heart of Lahaina Town just two blocks down from Honoapiilani Highway (Highway 30).
https://lahainagrill.com
Down the Hatch – A Place to Eat Fish serves Breakfast, Lunch, Happy Hour, Dinner, & Late Night! Down the Hatch has fantastic seafood, featuring locally sourced fresh fish. Try their Fish n' Chips, Mahi Mahi Tacos, and Ahi dishes. From Chicken & Waffles and Shrimp Po'Boy to a variety of Hawaiian Island favorites like their Local Style Plates, Lobster & Crab Grilled Cheese, Calamari and more! Down the Hatch & Breakwall Shave Ice Co. was featured on Diners, Drive-ins, & Dives, hosted by Guy Fiari on June 16th, 2017 on the Food Network! They are located on Front Street in Lahaina.
https://www.dthmaui.com
Captain Jack's Island Grill is a fun, friendly, family run restaurant on Historic Front St. in Lahaina. Great views of the World Famous Banyan Tree and Lahaina Harbor await you there. They proudly serve a variety of dishes from fresh locally caught fish, hand breaded Coconut Shrimp, award winning Lilikoi beer battered Fish-nChips, and Ribs with house made BBQ, sliced Rib Eye Philly Cheese Steaks and more.
https://www.captainjacksmaui.com
Kimos offers a dramatic oceanfront restaurant offering an extensive selection of menu options showcasing fresh seafood, premium steaks and regional specialties. It's located on Front Street in Lahaina. Don't forget to try Kimo's Original Hula Pie while you're there. Hula Pie is made with Kimo's favorite macadamia nut ice cream piled high on a chocolate cookie crust and topped with chocolate fudge, whipped cream, and more macadamia nuts. It is sized for sharing, but rarely goes unfinished! Enjoy a slice!
http://www.kimosmaui.com
Leilani's On The Beach offers award-winning Hawaii Regional Cuisine featuring long-line caught fresh fish, delivered daily, and all-natural prime cuts of meat prepared island style. Always served with a genuine sense of aloha and stunning ocean views. It is located in Whalers Village on Kaanapali Parkway in Lahaina.
http://www.leilanis.com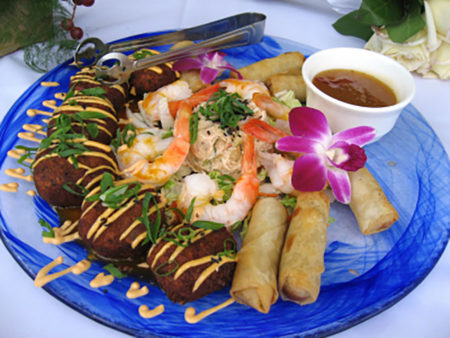 Gerard's Restaurant in Maui – The Plantation Inn is home to one of the finest restaurants in North America, Gerard's. Chef Gerard Reversade produces the finest Contemporary Island French Cuisine in Hawaii. His ability to combine classic French culinary arts with Maui's fresh island products has consistently earned him top honors. Gerard's features an award winning wine list and a sumptuous dessert menu. Guests can dine in air-conditioned comfort inside their charming dining room, or choose one of their romantic tables situated on the veranda/porch, or even request the tranquility of one of their garden patio tables.
http://www.gerardsmaui.com
Nylos Restaurant is located in the charming little North Shore surfing town of Paia, Maui, Dine in their intimate and limited seating dining room for a culinary adventure through the experience of Chef Jeremy Solyn. This is where Modern Gastronomy, reflections of Old World Cuisine and the quaint familiarity of home all come together for unique and unforgettable dining. Nylos serves Brunch and an Evening tasting menu: Think…caviar, foie gras, butter poached lobster, truffles and fabulous reasonably priced wine.
https://www.nylosmaui.com
The Cool Cat Cafe is a retro family friendly 1950s-diner-style cafe known for its burgers plus pulled pork, fish tacos & people-watching. It's been voted the Best Burger on Maui for 15 years straight. Great Service and Great Food plus vegetarian and gluten-free offerings. Located in on Front Street in the Lahaina Wharf Center.
http://www.coolcatcafe.com