Haleakala Nat. Park
Haleakalā National Park is a must see for anyone visiting Maui. The park houses the dormant Haleakalā (East Maui) Volcano, which last erupted sometime between 1480 and 1600 AD. The park is divided into two distinct sections: the summit area and the coastal Kipahulu area.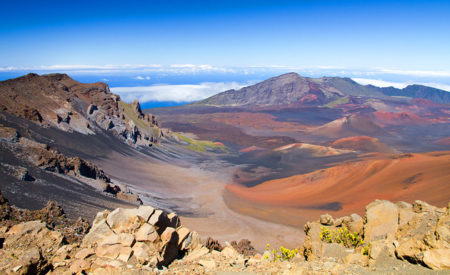 An extremely winding but well maintained road leads up the mountain. The summit area includes Haleakalā Crater, the summit of the volcano, and the area surrounding the summit.  There is a visitor center with parking and restrooms near the summit. At the summit itself is another parking lot and a simple observatory without facilities.
The main feature of the park is undoubtedly the famous Haleakalā Crater. It is huge — nearly 7 miles across, 2.0 miles wide, and some 2,600 feet deep. The interior of the crater is dotted by numerous volcanic features, including large cinder cones. Two main trails lead into the crater from the summit area: the Halemau'u and Sliding Sands trails. The summit of the volcano is a perfect place to watch the spectacular sunrise or equally amazing sunset.
The park is known for its unique volcanic features, its long scenic drive with numerous overlooks, and the unusually clear views of the night sky available. Haleakalā is one of the best places in the United States for amateur astronomy, and binoculars and telescopes are available for rent from many local merchants. Nēnē (Hawaiian geese, Branta sandvicensis) can also be seen in their natural habitat in Haleakalā Crater.
The second section of the park is the Kipahulu section. Visitors cannot drive directly to this section from the summit area; but instead must take a winding coastal road that travels around the windward coast of the island. This part of the park lies within the lower part of Kipahulu Valley. It is separated from the summit area of the park by the upper portion of the valley. This area is designated the Kipahulu Valley Biological Reserve and is closed to the public to preserve the native plant and animal species in this fragile rainforest.
This section of the park features more than two dozen pools along Palikea Stream in the gulch called ʻOheʻo. These pools contain rare native freshwater fish. Visitors may swim in these pools, or they may hike a trail that leads to the base of Waimoku Falls.
The name Haleakalā is Hawaiian for "house of the sun." According to a local legend, the demigod Maui imprisoned the sun here in order to lengthen the day.