Whale Watch Tours
A trip to Maui from December thru April is not complete with out Whale Watching. In the summertime, humpback whales live in Alaska, feeding off fish, plankton, and krill, storing up energy for their long journey to warmer waters. In late November and early December, the humpback whales begin to arrive in Hawaii. We start to spot subtle puffs of air coming from the glassy surface of Maui's tropical waters as they arrive.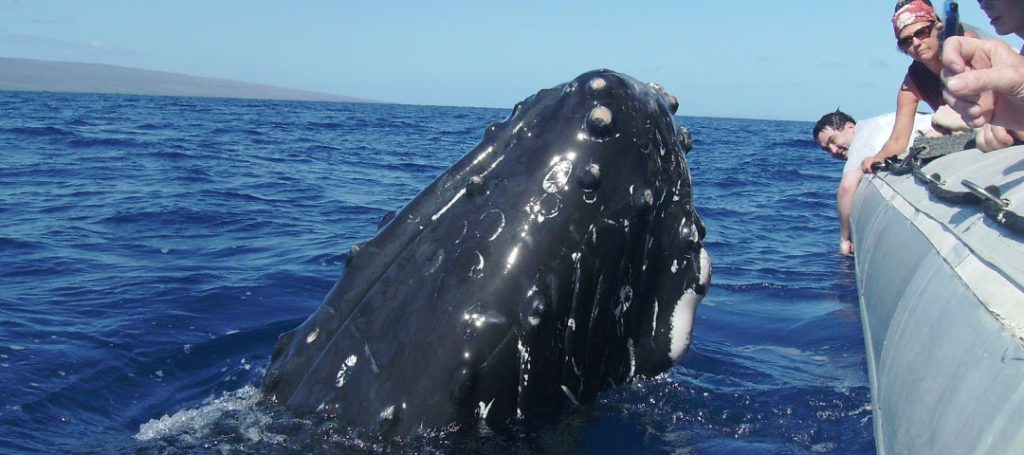 The best place to see whales in Maui is the Maui Nui Basin. The Maui Nui Basin refers to the waters between Maui, Lanai and Kaho'olawe and is a protected sanctuary for the whales. These waters are directly in front of Lahaina and Kaanapali, Maui, which means whale watching from Lahaina Harbor is the best place to whale watch. It's estimated that more than half of the humpback whale population migrates to the Maui Nui Basin for breeding every winter.
The largest population of humpback whales are in Maui from the end of January until the middle of March, then they begin their migration back to Alaska, and the last are typically seen in the month of April. Humpback whales do not feed while they are in Maui, Hawaii, instead they spending their time, courting, mating, fighting, playing and nurturing their young! You can observe these behaviors while whale watching in Maui and often see pods of whales interacting. There can be 50 or more whales in a pod displaying tail slaps, spy hops, and the ever famous breaches which makes for a spectacular show of their strength and beauty! Average adult whales are 45 feet in length and weigh over 90,000 pounds. The baby whales are born at an average of 12 feet and 3000 pounds.
We recommend two Whale Watching Tour Companies.
Trilogy, Maui's oldest family owned and operated sailing company offers wide, comfortable, catamarans that provide a stable viewing platform making the ocean experience safe for the whole family. Trilogy limits the number of guests to 35-40 so everyone has a front row seat! Onboard Hydrophones allow you to often hear the whales sing their incredible songs. All Trilogy Captains and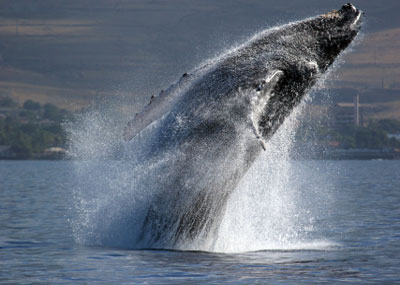 Crew undergo extensive marine naturalist training. Trilogy catamarans launch from either Lahaina Harbor or Ka'anapali Beach.
Departing from Lahaina Harbor, Maui, Ultimate Whale Watch takes guests right into the waters of the Maui Nui Basin via fast and safe rafting vessels that are low to the water and perfect for close whale watching encounter. With small groups of 18 or less, you'll observe humpback whales exhibiting a variety of behavior reflecting courting, breeding, teaching, learning, and playing. An advantage of Ultimate Whale Watch is that their rafting vessels are the quickest vessels in Lahaina Harbor, meaning you'll reach remote areas faster with more wildlife and more time to enjoy what Hawaii has to offer. Listen to whale songs on the hydrophone and don't forget your camera for epic photos. All captains and crew members are certified marine specialists who love sharing their knowledge with guests. Ultimate Whale Watch also guarantees you'll see whales on any trip from Dec. 1 thru April or you get to go again for free.