Hawaiian Luau
Experience a spectacular cast of dancers and musicians and all you can eat dinner buffet at Drums of the Pacific Luau, located in the Hyatt Regency Maui.
The sound of the conch, the beating of the drums, the echoes of the Hawaiian chant, and the lighting of the torches signal the start of Hawaii's most exciting Lu'au. Drums of the Pacific takes you on a journey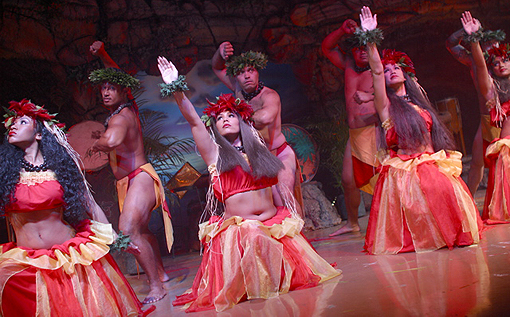 throughout the islands of Polynesia, complete with a traditional imu ceremony and the exotic flavors of native Hawaiian cuisine. We feature authentic dances and music of the old Hawaii, Samoa, Fiji, New Zealand, Tahiti, Tonga, and Rarotonga, and an unforgettable fire-knife dance finale. Join them under the stars at the Sunset Terrace, just steps from Ka'anapali Beach at Hyatt Regency Maui for a perfect Maui evening of culture, entertainment and delicious food and drinks.
Maui's most exciting luau is also the island's longest running show. Drums of the Pacific Luau has entertained more than 2 million visitors since the opening of the Hyatt Regency Maui Resort and Spa in 1980.
Sharing the legends and stories of Maui and Polynesia, Drums of the Pacific Luau shows the contrast of island cultures, from the lyrical Hawaiian hula, to the spectacular Samoan fire-knife dance, to the pulsating drum dances of Tahiti. The revue also emphasizes the connections and similarities across cultures, most importantly in how guests are welcomed. Polynesian cultures demand that visitors be treated well, fed well and welcomed with songs and dances; a lu'au is an expression of hospitality.