Sailing Tours
Maui's climate and prevailing trade winds provide some of the best sailing in the Pacific especially when embarking from Kaanapali or Lahaina.
Sailboats and catamarans ply the waters up and down the coast of West and South Maui, stopping near secluded beaches, anchoring in rocky inlets, or hugging mountainous cliffs that plunge deep into the ocean. Some are out-and-out sailing trips, seeking out the wind line far out in the channel; other Maui sailing vessels combine snorkeling or light-line fishing in calmer waters. The best winds are usually in the afternoon, with Maui sailing trips in the morning and evening of a lighter nature – just as fun, just easier going.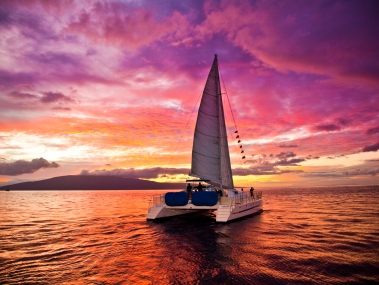 We recommend the following Maui Sailing Tours:
Trilogy Excursions Deluxe Kaanapali Sunset Sail
Enjoy Maui's famous sunset, along with stunning panoramic views of the West Maui mountains, Molokai, and Lana'i from aboard Maui's newest sailing catamaran the Trilogy III – a 64′ sloop rigged sailing catamaran. Step away from the bustle of a crowded restaurant and relax into sunset at two-top tables set for intimacy and comfort. Dine on chef-plated appetizers served by world-class Trilogy Crew. In addition to tasty pupus (appetizers), their crew will take serve up Trilogy's signature cocktails, and knowledge of Maui history and marine life.
Departing from world famous Ka'anapali Beach, sip and sail with Maui's oldest and most experienced sailing company.
The Captain's Sunset Dinner Sail/Trilogy Excursions
Experience fine dining with an unbeatable view! Tables are set for intimacy and comfort; a private restaurant feel, without the crowds, aboard the Trilogy II – a 64′ Custom SeaRunner/Cutter rigged sailing catamaran. The evening begins with cocktails and sailing along the pali sea cliffs. After mooring in a protected cove, the first course is served. From there on, the crew are quick to accommodate your every need and serve three courses including the entrée of your choice preparing in the galley by the onboard chef. Dessert and drinks are enjoyed as the sun sets on another beautiful Maui day and the evening continues with music under the stars.

Kainani Sails Maui Sailing Charters – Day Tours
Set sail on Hawaii's most outfitted private yacht. Experience performance sailing, personalized snorkel trips, whale watching, or relaxing sunset cruises aboard a private sailing yacht. Departing from world famous Ka'anapali Beach, the Kainani is a 43′ Beneteau Oceanis sailing mono hull for up to 6 passengers. Built in France, she was designed with comfort, safety, and performance as priority. Her modern yacht shape, spacious interior, and blue water sailing capabilities make her the perfect Hawaii sailing charter boat. They specialize in private sailing charters. Whether you are looking for some time to relax and kick back, or if you want to take your family on a true sailing adventure- give them a call and see how we can help you make the most of your time while onboard.