Golfing on Maui
When it comes to golf, spectacular views and a variety of course challenges are the hallmark of golfing on Maui! In addition to being a favorite spot for honeymooners and romantic getaways, there are few better things to do than play some of the Pacific's most spectacular golf courses.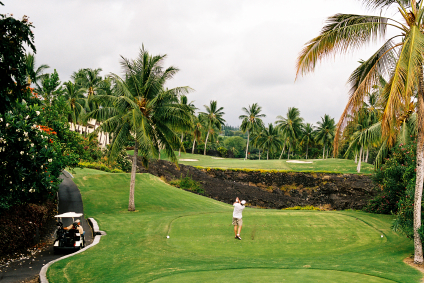 Maui's topography is dominated by the West Maui Mountain range and the 10,000-foot-high Mt. Haleakala volcano, joined by the Kahului Isthmus, where the majority of locals reside in the main port city of Kahului. No matter where you are on the island, golf is right around the corner.
Plantation Course at Kapalua Golf Club
The legendary Plantation Course at Kapalua Bay is consistently ranked as the number one golf course in all Hawaii. Located on the slopes of the West Maui Mountains near Kapalua Bay, this course 7,411-yard course was designed by Ben Crenshaw and Bill Coore; and offers dramatic ocean views and stunning scenery at every hole. Most famously, the Plantation Course is home to the PGA Tour's Hyundai Tournament of Champions each January. It has hosted some of the biggest names in golf including Tiger Woods, Vijay Singh, Justin Leonard, Ernie Els and many more. The course's 18 holes set at a par-73 across a significantly lengthy course offers quite the challenge to the pros. However, its wide fairways and generous greens make it an enjoyable play to the average golfer as well. For golf enthusiasts around the world, it would be unimaginable to come to Maui and miss out on playing the legendary Plantation Course.  http://www.golfatkapalua.com/plantation-course.html
Bay Course at Kapalua Golf Club
Beautifully landscaped and offering stunning ocean views with the Island of Molokai off in the distance, the Bay Course is Kapalua's original course and has hosted over 20 major professional tournaments over the years. This 18-hole course sits over 6,600 yards while playing at a par-72 and was designed in 1975 by Arnold Palmer and Francis Duane. The course is friendly for the average golfer, but it does provide an exciting amount of challenge with a stunning par 3 signature hole that requires a precise shot over Oneloa Bay and the crashing Pacific. If you're looking for a uniquely challenging course with breathtaking views, don't want to pass up the chance to play on the Bay Course at Kapalua.  http://www.golfatkapalua.com/bay-course.html
Gold Course at Wailea Golf Club
The Wailea Gold Maui Golf Course is spread over 7,000 yards and was designed by Robert Trent Jones Junior in 1994. This course is easily the most difficult of the three courses shared at the Wailea Golf Club. Recognized for its preservation of historic lava rock walls, the Gold Course at Wailea Golf Club offers one of the most uniquely Hawaiian golf experiences. While the play is picturesque in its landscape of beautiful greenery, exquisite ocean views and stunning lava rock, it does pose quite a few challenges to well-experienced golfers; including lakes to clear, skinny driving alleys and fairways, and holes situated between lava rock formations.  http://www.waileagolf.com/wailea-gold-maui-golf-course
Emerald Course at Wailea Golf Club
The Wailea Emerald Golf Course is a par-72 and offers exciting challenges. Considered one of the most women-friendly courses in North America by Woman & Golf magazine, the generous fairways, various teeing grounds and few forced carries make the Emerald pure golfing entertainment. Add in ideal weather conditions and beautiful views of the Pacific for a delightful day of Maui golf.  http://www.waileagolf.com/wailea-emerald-maui-golf-course
Blue Course at Wailea Golf Club
The Blue Course at Wailea is another of the three exceptional golf courses at the Wailea Golf Club. This traditional resort course was designed by Arthur Jack Snyder, and was built in 1972. The Blue Course offers 18 holes at a length of 6,765 yards. Seated at the base of Mt. Haleakala, a 10,000 ft. dormant volcano situated at the center of the island, the course has the benefit of being shielded from high winds, while boasting the remarkable sights of Mt. Haleakala, the West Maui Mountains and Ma'alea Bay's beautiful ocean views along every swing. With three boxes at every tee for players of all skill levels as well as forgiving fairways along the length of the course, the Blue Course at Wailea Golf Club provides an enjoyable experience for even the novice golfer.  http://www.waileagolf.com/wailea-blue-maui-golf-course
Royal Ka'anapali Golf Club
Royal Ka'anapali Golf Club has been a Maui mainstay since it first opened in 1962. Designed by Robert Trent Jones Sr., this exquisite 18-hole course runs about 6,700 yards, stretching along the western coastline at sea level before winding its way to the foothills of the West Maui Mountains. With its prime location just outside the historic town of Lahaina, guests will find easy access to restaurants and shopping after enjoying a round on the greens.  http://www.kaanapaligolfcourses.com/golf
Kaanapali Kai Golf Course
Looking for a course that's easy-going, fun and scenic, then look no further than the highly accessible Kaanapali Kai Golf Course. This course underwent major renovations and was re-designed by architect Robin Nelson in 2005. While the terrain is similar to that of its neighbor course, the Royal Ka'anapali, it has gentle slopes that run both upwards and downwards on the fairways. Ka'anapali Kai offers an easier playing field for golfers of all levels. Set along the western coast of the island, this course presents outstanding views of the Pacific Ocean with the neighboring islands of Molokai and Lanai in the background.   https://www.kaanapaligolfcourses.com/golf
Kahili Golf Course
The Kahili Golf Course is considered to be one of Maui's finest hidden gems. Designed by Robin Nelson and Rodney Wright, this exceptional course found its home in 1991 on the hillside of the West Maui Mountains. An 18-hole, par-72 course situated on 6,560 yards of green hillside, this course can pose quite the challenge to golfers of every skill level when you factor in the elevation changes, hilly par 3s, high winds and long par 5s. Free from resorts, residential spaces and highways, the Kahili Golf Course offers a unique setting of peace and serenity that allows golfers to focus on their game. Add in the spectacular mountain and ocean views, along with beautiful practice facilities, and you have all the makings for a golf course that may be the best value in Maui.  http://www.kahiligolf.com/
There are other golf courses located on Maui, but we have not listed them here as they are more than a 30 minute drive from Napili Bay Condo.